What should you consider choosing a roof for your home?
The type of roofing and the quality of its installation is crucial for the building in order to get the architect intended style. The roof silhouette and its color tone are the first things that attract our attention in the areas of private houses. Furthermore, from the higher points of the city, we can see what is called the urban roof landscape – it is an important cultural and historical value, followed by monument guards, recommending specific types of roofing in the neighbourhood. More often than not the roof landscape in cities with history is dominated by clay tiles of different shades. The roofs of modern cities create a different mood; the variety of coverings is wide, as well as there are relatively many skyscrapers with flat roofs.
The most popular types of roofing
The variety of roofing is wide: asbestos (a harmful and officially banned material, but still can be widely seen in a private sector in spite of the violation of the legislation) and asbestos-free slate (serving 25–45 years), bituminous corrugated sheets (serving 5–15 years), metal roofing (various types, 25–100 years, titanium zinc, which is an almost eternal material), concrete and ceramic tiles (40–100 years), stone (natural slate) roofing (service life can reach up to 200 years, but in contrast to other roofing the material is very heavy, hence the need for particularly durable roof trusses is pretty urgent. Shingles or reed roofs would suit wooden houses particularly well, but you have to take into account a very limited offer on the market – there are very few masters who are able to install these roof coverings providing high quality. It should also be noted that the shingle roof still needs to be regularly maintained – coated with special oil.
For most of these roof coverings, the minimum slope is 12–14 degrees. The roofs with a higher slope will be influenced by lower snow loads, because the snow will, of course, slide downwards under the influence of gravity. The smaller the slope, the greater the load on each square meter of the roof and its construction that will be caused by snow.
Costs and context
When choosing roofing, strategically thinking customers not only compile information about the price, but also look at the wider context and study the resistance of roofing to loads (resistance to wind loads largely depends on the quality of roofing reinforcement), the ability to prevent moisture penetration into substructures, fire resistance and durability. Unfortunately, the customers who fail to compile sufficient information from reliable sources and mistakenly think that everything is clear are the ones who can experience frustration. It is recommended to consult a specialist.
The longevity of the material has the most direct impact on costs. You can buy cheap material at a very low price, which can no longer be used after 10 years of service, and you will have to think about new roofing all over again. Better quality, more expensive and more durable materials will definitely pay off in the long run. A good example is bitumen tiles, which were widely selected for buildings at the end of the 20th century, to be more precise in the late 1990s. Today, roofing of almost all of these buildings need to be replaced. In addition, these are not the only costs, the thermal insulation is often damaged as well. It means spending additional funds on dismantling the old roofing and roof constructions, purchasing new materials and assembling them.
Remainder can make roofing more expensive
There will be the remainder of the materials in the course of the installation either you choose shingles or metal roofing, with the exception of perhaps tiling. Excess metal or shingles must be disposed of in accordance with building material waste management, but the remaining tiles can be disposed of and, if necessary, used for roof repairs. It is considered that natural slate pieces are stylish and can be used as a table setting design accessory, serving food on them as it is done in many restaurants. There may be a situation where in the course of the installation of a cheap material you get a lot of waste, and all the original nice effect disappears. Other materials, on the other hand, can be expensive, but they can be installed almost without scraps. It should always be remembered that larger mountains of material waste are generated when the form of the roof is complex, so it is worth considering when designing whether the shape of the roof should not be simplified.
The dismantled roofing that has been replaced with new must also be disposed of in accordance with waste management of construction materials. There has been a popular technique on the market – the shingles that have served for at least 10 years are covered with new metal sheets. However, experts warn that the metal heats up in the sun, which means that the bitumen shingles underneath also heat up, change their structure and therefore are no longer moisture-resistant thus giving way for condensation, which can damage wooden structures.
While we were preparing a publication on what to take into account when choosing a roof for a house, we consulted an experienced specialist, who also happens to be the Chairman of the Board of the Roofers' Association, and a responsible builder of high-quality private houses, who has tested multiple useful technologies in roof construction.
Types of roofs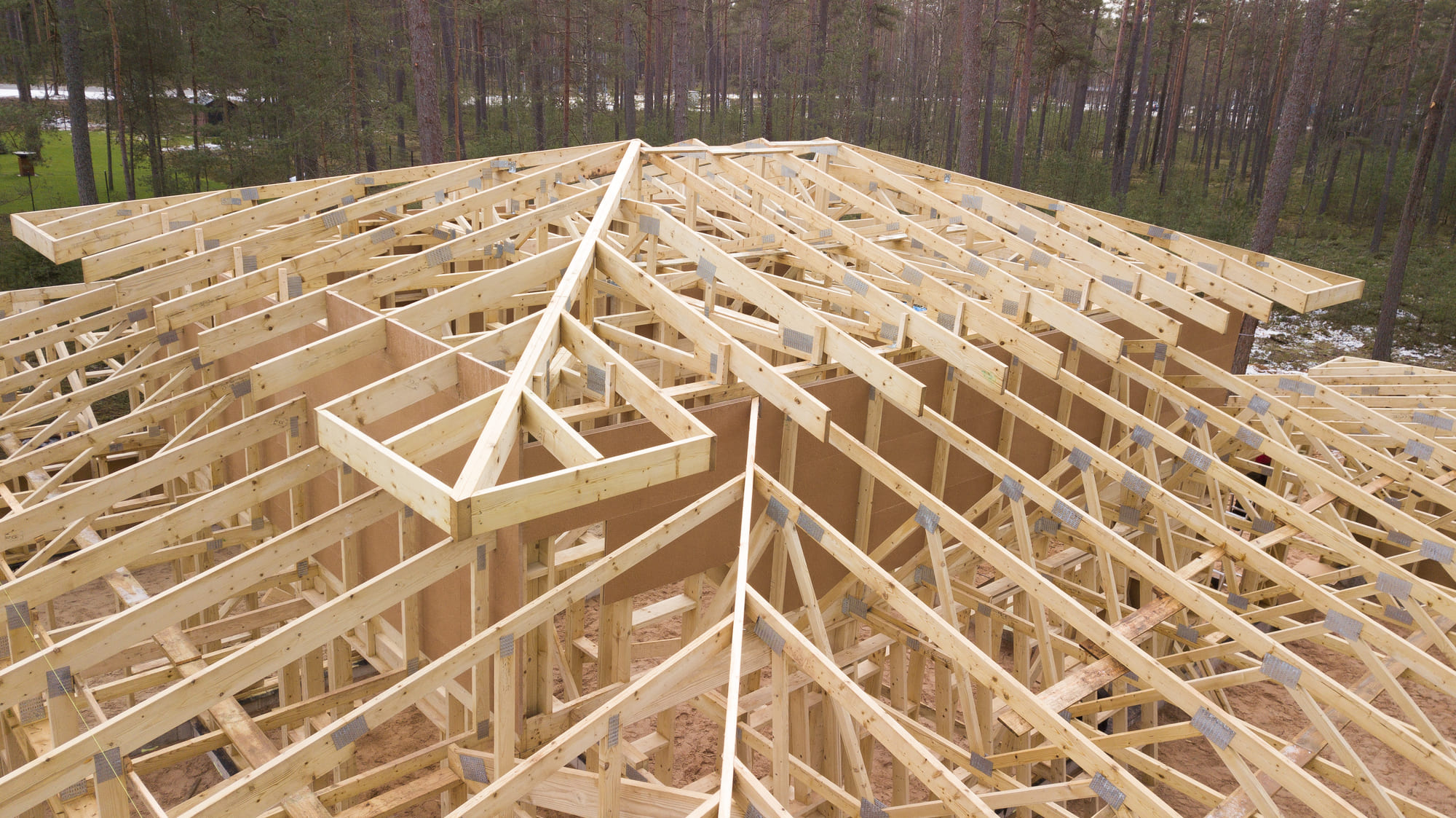 Roof configuration options are diverse – gable, hip, overlaid hip, hip and valley, L-shaped, X-shaped, irregular, symmetrical, flat, which are usually chosen for cubic architecture buildings. Buildings can be built with an uninhabited – cold and habitable attic by creating rooms in the mansard.
Preference is given to prefabricated roof trusses
According to the information provided by the roofing expert
When you need to choose a type of roof construction, attention should be paid to several aspects – cost, installation speed, labor intensity, desired quality and geometric accuracy. Basing on my personal experience, I can definitely recommend the use of prefabricated wooden structures, because the assembly of finished elements will certainly be faster and more accurate than when a roof structure is constructed on the site. Roof rafters built by good masters are, of course, of high quality, but it takes a long time to build and labor costs are high. It is not possible to be completely sure about the qualifications and skills of the masters – it may turn out that the specialists are not skillful enough. Good artisans are in great demand, customers are literally fighting for them.
Modern industrial technologies eliminate the errors caused by the human factor, assuming that the timber trusses of structures will always be precise and will be able to maintain the correct geometry for a long time, they are fast to assemble and may even cost less than those made by artisans. Prefabricated timber trusses are a great choice when building houses with uninhabited attics.
It is more or less clear what to do if a building has a simple gable roof, but with a roof of complex configuration, such as hip and valley and some other complex constructions, much more time should be devoted to the development and implementation of the project. There are 2 possible solutions in the construction – by craftsmen or using industrially made elements, which can be assembled on site as Lego blocks. However, professionals recommend implementation of an industrial approach, as digitalization ensures that the design and production of elements are interconnected on one platform. The software of the machines processes project data from simulated 3D versions and produces all elements with impeccable quality.
During the design, it is possible to ensure the planned quality, any timber trusses or their element is calculated in order to ensure a certain load resistance, taking into account the surrounding climate parameters – possible wind and snow loads. Industrial production always enables to guarantee reasonable deadlines, as production indoors is not affected by weather conditions.
WHAT OUR CLIENTS HAVE TO SAY
A private house in the suburbs
The load-bearing structures of a private house are made of autoclaved aerated concrete, which made this a relatively quick process, I also wanted to find a solution for the creation of roof structures that would meet several parameters. I wanted the structures to be qualitative as well as fast and convenient for installation. Having compared the possible costs of a team of craftsmen and industrially produced wooden trusses by Freimans Timber Constructions, my choice was in favor of modern technological possibilities, where the price is known precisely. When a team of craftsmen is hired, one can never know in advance how much the timber will cost, how much time and money will be needed for its delivery to the site, what the amount of the labor resources will be needed, and ultimately how long the process will take. Having made preliminary calculations, I concluded that the use of craft brigade services would take at least 3 weeks longer than the industrial manufacture and installation of trusses.
Another aspect in favor of prefabricated timber trusses was that there were no load-bearing walls planned in the middle of the private house, we had only plasterboard partitions. Consequently, the floor between the first floor and the uninhabited attic had to be designed taking into account a significant area – more than 10 m long. The construction had to be designed in a way where it would have only two support points. And these two support points had to be sufficient for structural stability. The private house has a simple gable roof. Only one day was necessary for it to be assembled, the next day the nodes were attended to, and the roof structure was completely ready for roofing for which purpose we used metal profiles.
A private house in an exclusive area
I chose to build my private house from wood, which is a much more pleasant material than concrete or brick. We sense wood as a warmer material. It is a single-story building with 7 rooms and the total floor area is ​​approximately 200 m2, the load-bearing walls of the wooden frame are insulated using mineral wool. Wood was also used for the facade finishing. The architecture of the building required the construction of a four-sloped roof with an uninhabited cold attic. The house is positioned orienting to the four cardinal directions, with a terrace on the west side. High-quality wooden houses cost the same as buildings made of traditional building materials, but emotionally wood is definitely a better material for living.
I controlled the house construction process myself as a customer. When it came to the choice of roof constructions, it was clear that a wooden frame house definitely needs prefabricated timber trusses, which possess both quality and durability. The maximum span of wooden beams is more than 6 m. I chose concrete tiles for the roofing, as required by the architectural style, so I needed to make sure that the beams had sufficient load resistance. It can only be accurately calculated for prefabricated wooden elements. All calculations for the roof structure were performed by Freimans Timber Constructions. They also took care of the delivery and installation of the roof frame on site.
A private house in a small town
The residential house was built of autoclaved aerated concrete and I chose prefabricated wooden trusses for the roof construction. I came to the conclusion that ready-made timber trusses are a better solution basing on my previous experience. The first building on my plot was a garden house, I chose to have its roof built on site by masters. Honestly, it was not a pleasant and satisfying experience, I struggled, starting with the search for quality lumber, looking for a long time for a sawmill that can offer straight, precise geometry lumber.
The next complicated stage was the construction of the structure and its leveling. A relatively large amount of resources – both time and money was consumed. Basing on my previous experience, I chose ready-made wooden construction roof trusses for the house, which I ordered from Freimans Timber Constructions. The assembly of the trusses at the site took 2 hours. Their length is more than 16 m, they are based only on external enclosing structures – walls, and what is more it is not necessary to place additional supports in the middle.
Practically assessing the durability of the trusses, I can note that two people with a total weight of 200 kg moved along the trusses, tying the joints, moreover, in the weather conditions when the wind speed reached 13 m/s and there was a heavy snowfall, and the trusses did not bend at all. The assembly was done with a manipulator, so there was no need to use a crane, which is much more expensive to operate.
We needn't have worried that the trusses got a little wet during the assembly, because the wood dries as fast as it absorbs water. Of course, you have to be more careful in autumn, when in some regions there are prolonged heavy rains. Timber trusses are also beneficial when it comes to energy efficiency. From the very beginning, I didn't want a habitable attic floor or a basement for the house, because they are structures that steal heat. By building a cold attic with timber trusses, insulating the mezzanine floor between the 1st floor and the attic, we are happy to have a house with low energy consumption.