Modern energy efficient timber frame houses that will flawlessly serve several generations
Universal, but at the same time adaptable to individual needs and energy efficient timber frame private houses have become a trend. The existing myth that alleges wood frame houses to be at greater burning risk has been convincingly refuted by real experiments, proving that timber frame house fire can be controlled better and they hold geometry much longer than houses built using other materials, so they are consequently SAFER.
Undoubtedly – wood is a more ecological and pleasant material, we can reasonably say that by living or working in wooden structures we reduce the impact on nature, which is much less harmful compared to other materials. Timber frame buildings are ECOLOGICAL. If we analyze such parameter as the ENERGY EFFICIENCY of buildings, wood is one of the best materials that provides high energy efficiency. Such outstanding results can be achieved using a variety of technologies. Their use depends on the type of timber frame house, its desired construction and operating costs.

Stubbed Duo wooden trusses for thermal insulation and installation of engineering communications
The preconditions for building high-quality, energy-efficient houses are reliable subcontractors and materials suppliers, skillful craftsmen and top notch solutions that minimize heat loss. In the majority, heat is lost through three building structures: uninsulated foundations, enclosures and roof. To solve these problems wisely and efficiently a variety of construction technologies are used, the most widely used of which are the ones concerning foundations and enclosures. Special custom-made wooden truss structures are required for the construction of timber frame house ceilings and the construction of warm attics.
Freimans Timber Constructions Stubbed Duo timber trusses are made in accordance with each special order to suit individual requirements regarding truss element size, fasteners and geometry. The top-notch production technology makes it possible to design and manufacture the final product with high-precision geometry within a few days. However, it should be noted that we apply a first-come, first-served principle as the high quality products have always been in great demand. The factory produces ready-made truss products, which can easily and quickly be incorporated into the construction of private houses.
The specially designed construction of the Stubbed Duo floor trusses has been elaborated to provide a comfortable and precise layer of wood fiber insulation with full coverage of brick laths thus guaranteeing a high level of energy efficiency. The geometry of the truss beams is adapted to enable easy installation of engineering systems, which means that there is enough space for communications. One side of the truss is finished with gypsum board (the indoor ceiling part).
The truss has a sufficient resistance to the planned loads, which means that by installing a plank floor above it, it is possible to make an insulated storage space in the attic. The truss beams are made of planed and graded fir wood. They are also reinforced with perforated nail plates. Stubbed Duo is used not only in private house projects it is also used in the construction of farms, hangars, warehouses and hay barns.
Energy efficient timber frame house with the application of the Stubbed Duo truss solution
As an example of an energy efficient timber frame house, we can have a look at a family home, currently (middle of March 2020), the building has a fully constructed frame and the interior has been prepared for the final trim. It includes wall and ceiling trim with plasterboard and parquet flooring, the wooden trusses for the construction of intermediate storey ceilings and covered tile roof, which were individually designed and manufactured. Wooden trusses are particularly resistant to loads, which are calculated for both – loads of tiles and possible snow loads. In this case, the insulation method that is intended for this purpose is wood fiber blown insulation. For fire protection purposes, the trusses have been treated with a fire retardant, therefore a fire protection class is obtained upon the completion of the construction.
The thermal inertia of the wood fiber layers is high, that is why the lambda coefficient is not significant in this case. The temperature difference between the outer and the inner surface is important though. Wood insulated house will not heat even if the temperature is up to +35 ℃. You will feel comfortable and enjoy what we call the benefits of an energy efficient building. As to the winter period, it is always warm in an energy efficient house just as it should be. The Stubbed Duo truss solution in the intermediate storey incorporates a layer of insulation in order to eliminate heat loss and any cold bridges in the ceiling structure completely, which in turn plays an important role in the energy efficiency of the building.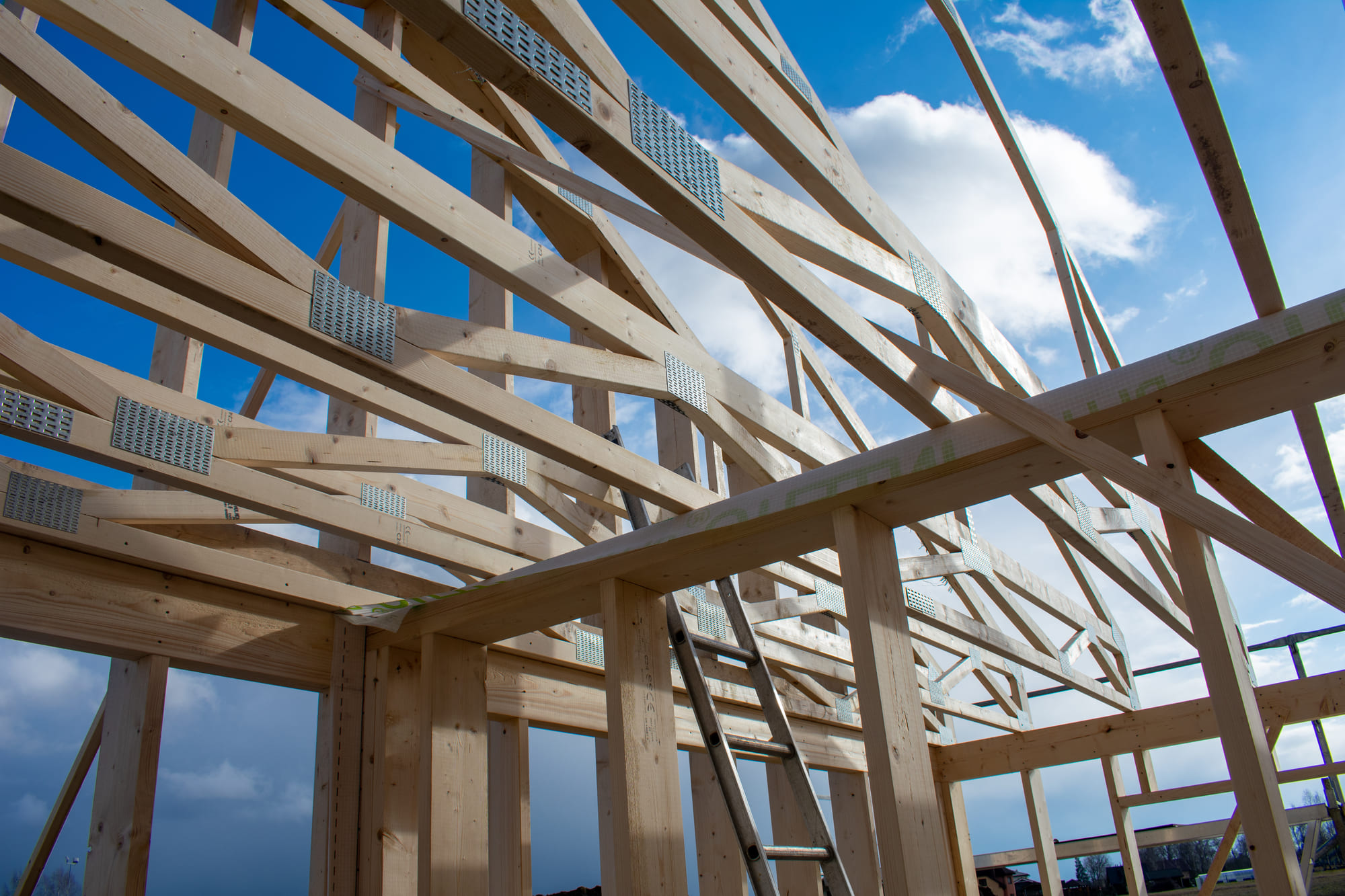 The high-efficiency recuperation unit is responsible for the air exchange. It is necessary to emphasize that these types of houses are built for people but not for gaining big profit. The technologies and materials that are used in the process of construction of the house do not promote the increase of CO2 levels, the air will not cause allergy of the respiratory tract, and once again, the low running costs are to be emphasized. Microclimate system ducts and other engineering systems are already installed in the ceiling slabs – into the Stubbed Duo trusses, whose geometry provides a smart solution for the installation of engineering systems.
Another myth that wooden frame houses are unpleasantly loud is not substantiated. If proper soundproofing plasterboard is used indoors, there is no echo effect and the premises can be proud of comfortable acoustics.
The energy-efficient family home is just one of many examples of high quality private house construction based solely on local materials such as wood, concrete, beam trusses, windows, glazed showcases, etc. Architecturally, each building is designed individually, but the basic thing and requirements remain – a one-story volume with a two-pitched roof and large, glazed showcases. The universal silhouette of these buildings perfectly and harmonically fits into the landscape, and the Stubbed Duo trusses are one of the basic constructions for obtaining the double-pitched roof solution, which is so characteristic to our country.
Modern timber frame energy efficient houses are built according to completely different principles and technologies, and the quality of materials and solutions is carefully controlled, starting with the foundation and up to the design of the roof truss. According to the builder of energy-efficient houses, in the near future, we can say that high-quality, modern, inexpensive private homes with reasonable construction costs will be one of the products in great demand.