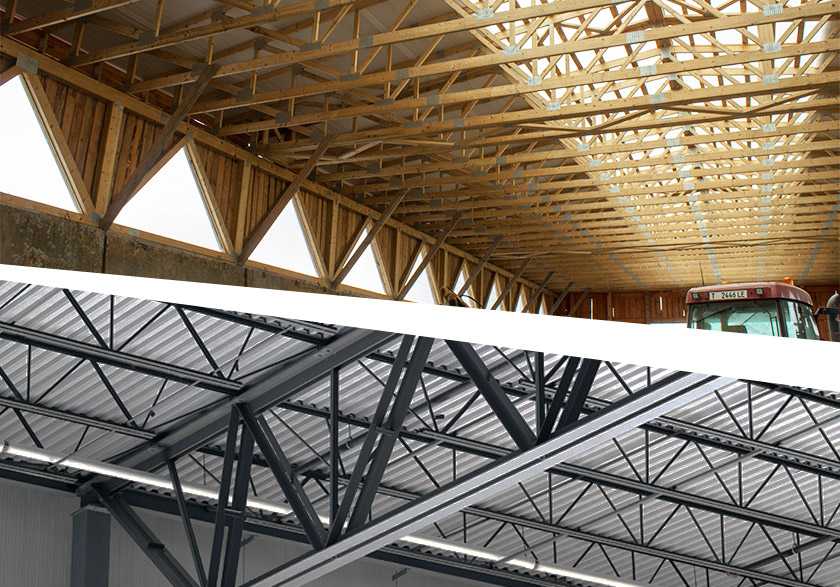 Metal vs Timber – Why in construction it is better to use timber trusses
Choosing other roof structures with timber trusses has already become the standard choice for building construction, especially for residential buildings. When it comes to the roof, there is no doubt that there is a need for stable and high-quality structure, and the roof trusses offer a number of advantages in this regard, as compared to, for example, traditional rafter solutions.
Timber trusses are incredibly strong and can be installed much faster, saving time and resources. They effectively move the entire load to the outer walls of the building. However, it is also important to choose the right solution here, since in the construction world it is possible to choose both timber and metal roof trusses.
Metal trusses
On the market, there are available two types of metal trusses- flat structure and with structure with the slope. Metal roof trusses are usually much more expensive than timber trusses. Although they tend to serve a little longer, they occasionally require maintenance. Experienced professionals will be able to build it quickly and efficiently, but their installation requires a lot of skills, practices and resources. The metal does not tolerate heat as well as wood, so it can expand and cause damage to the roof at very high temperatures. At 400-500 degrees, it loses up to 50% of its strength. If you want better sound insulation, then the metal construction will not be the best solution. And, of course, everyone knows that the metal is rusty, so it requires proper maintenance, which is undoubtedly more expensive than the maintenance of wooden trusses.
Pluses:
Resistant to cold weather;

A large part of the metal trusses consists of recycled material.
Minuses:
Rust (requires frequent maintenance);

Due to the rapid heating of the metal, careful thermal insulation in the roof structure is required.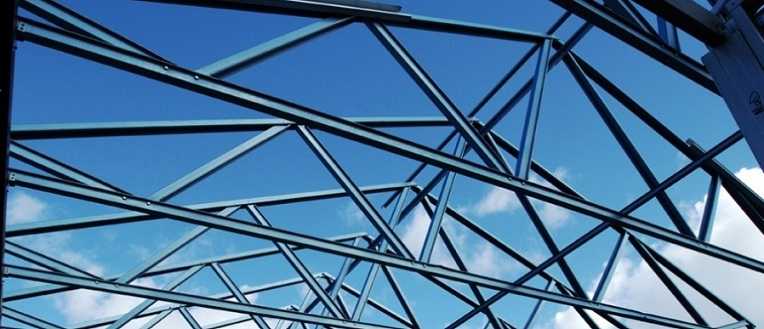 Timber trusses
Despite the controversial claims about the quality of wooden roof structures, this solution is becoming increasingly popular among both small and large projects and is considered a more economical option. This solution holds the heat longer than the metal, resulting in lower heating or power consumption, especially in winter.
Advantages of wooden roof trusses:
1. Flexibility and versatility
Wooden trusses are very diverse and easily compatible with other structures, such as steel beams. The possibility of wide span creates wider opportunities that architects and designers are keen on.
2. Ecologically friendly material
Wood collects carbon but releases oxygen on the surface. And that's not all. Compared to other materials, wood consumes less energy that reduces air and water pollution. Moreover, timber is the only renewable building material that helps to ensure sustainable development.
3. Economy
In most cases, wooden trusses can be installed without the help of heavy construction machines. Also, the time taken to make wooden roof constructions is surprisingly low, thus shortening the terms of a construction project. When it comes to working on a construction site – wooden trusses do not encourage the generation of so much waste that makes cleaning the construction site more comfortable.
4. Strength and sustainability
Accurate manufacturing and continuous quality control ensure that the truss size and shape are in line with project standards, ensuring the structural integrity of the building.
5. Energy efficiency
Wooden roof structures have excellent thermal properties when compared to other materials such as alumina or steel. It is also a dense material that creates good insulation.
6. Aesthetic freedom
The timber truss solution provides an unlimited variety of options, providing the customer with the freedom to experiment with the area, layout and aesthetic properties of the building. 
Successful solutions
Timber roof trusses have been used since the Middle Ages. Nowadays, they are also becoming more popular with structures and objects that require more space, especially for large industrial buildings and office buildings, because they provide greater flexibility in design planning. They can be created in almost any shape and size, as stability can lead to a greater span.
There is a great deal of speculation of the fact that roof structures constructed of timber are more insecure than metal structures, but tests have shown that metal structures are able to collapse after 40-50 minutes of burning. As it turns out, properly installed wooden structures are more secure in the fire, because the advantage of wood is its durability up to the critical flammable temperature. The poor quality of steel and reinforced concrete is a significant loss of strength at elevated temperatures.
Already, most residential buildings in the United States, Canada and Australia are being built using timber roof trusses, while the demand for industrial structures for wooden constructions is gradually increasing. They have gained great recognition in recent years, not only in Europe, but also in the Japanese market.
Science and technology advance wood has made it possible to become more durable and more secure. This, in comparison with other building materials, is also subjectively more cozy, creating a feeling of warmth and lightness.