[:en]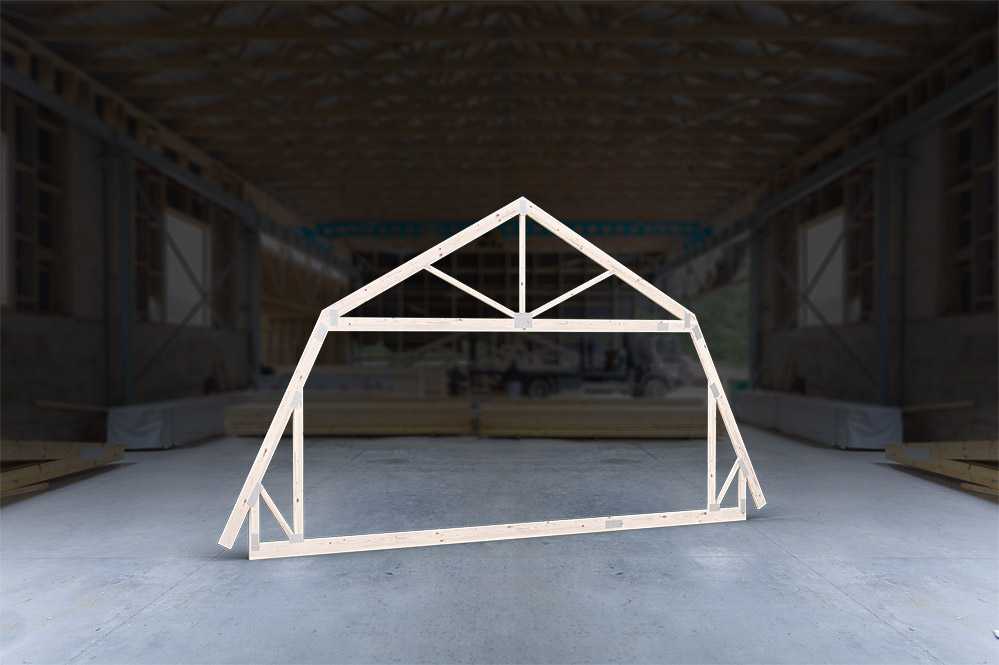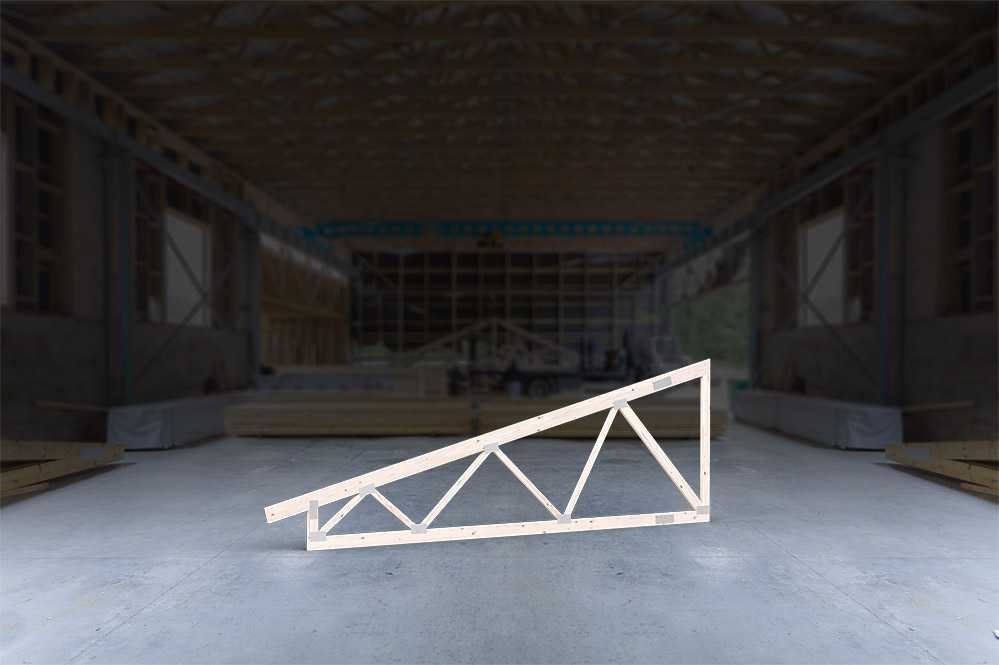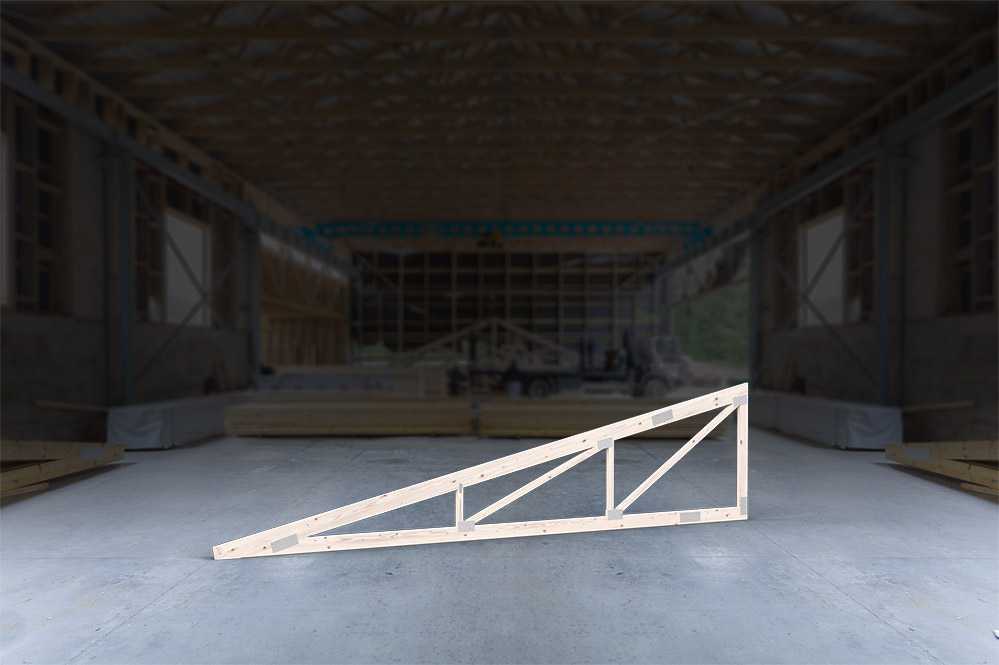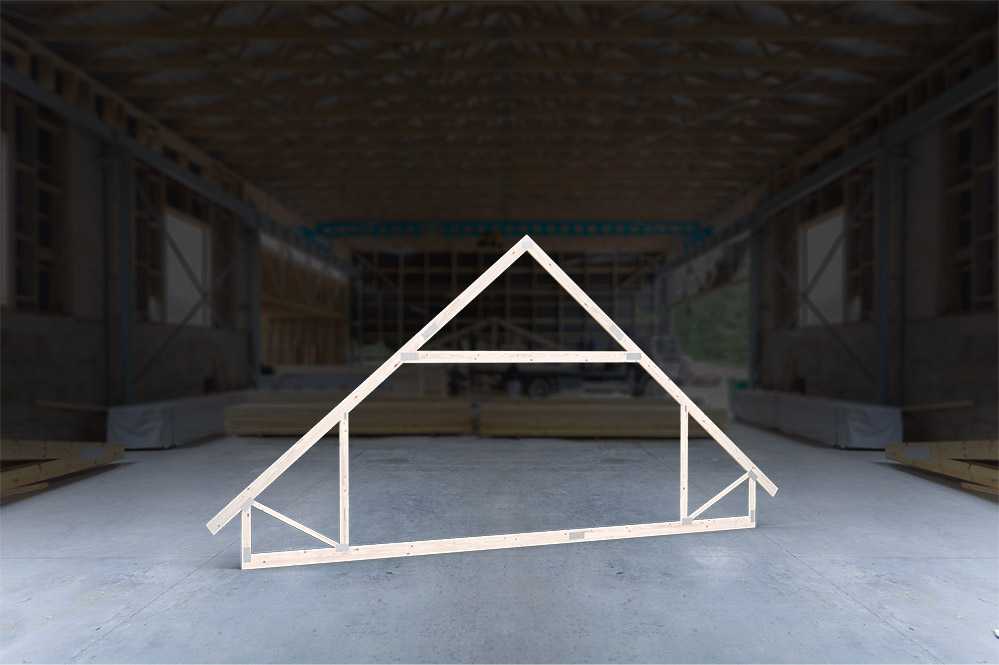 WHAT ARE TIMBER TRUSSES ?
Timber trusses are factory-built roof constructions. They are placed on external load-bearing walls. To save on roof constructions it is recommended to add an inner load-bearing wall.
The roof structure consists of a number of trusses, which are symmetrically arranged to cover the building from one end to the other. Unlike rafter roof that are put together on site, timber trusses are manufactured at the factory and delivered to the construction site for ready-made installation.
Advantages of timber structures
Timber Economy
Using timber trusses, you can save up to 30% of timber in comparison to traditional roof structures which are made of rafter. This timber economy also affects costs of the structure
Advantage of manufacture and delivery times
Thanks to a modern production unit and a well-developed production process, timber trusses are created as fast as possible without loosing the quality, but it should be taken into account that it is necessary to order the roof construction design in advance in order to be able to plan the most advantageous delivery terms.
Extensive use possibilities
By creating roof structures and using wooden trusses, you can choose from a wide variety of roof shapes, and customize the roof to a wide variety of architectural needs of customers.
Free project creation within a month
We offer you a free project desgin that we will create within a month, but if the project is urgent, we can offer the priority development of the project with a deadline of one week also including additional drawings and corrections, according to the wishes of the customer.
More economical than metal roof constructions
When choosing your roof construction, you can reduce the cost by at least 15% by choosing timber structure instead of metal structure.
Easy storage on the project site
Wooden trusses are delivered at the moment when the customer is ready to install them, so there is no need for a large area for storing at the project location.
Installation time economy
Compared with other roof structures, wooden trusses are pre-fabricated and roof installation on house can take much less time. The structure of the object offers an assembly plan that further facilitates assembly work.
Large-span roof structures
Without additional supports the largest size of timber truss span we can manufacture is 35 meters in length. Large-span structures are usually built for such buildings as - warehouses, farms, stables, etc.
TIMBER TRUSS
Timber trusses is the quickest method to make a solid and cost-productive roof structure. timber trusses has been ensured with European standard so every truss that we deliver is in flawless quality.
SEE OTHER TRUSSES
Contingent upon wishes and kind of building, we are prepared to design you and plan the most appropriate timber truss design for you.
Warning
: explode() expects parameter 2 to be string, array given in
/home2/freimans/public_html/wp-content/themes/twentysixteen/shortcodes/components/ProjectMap.php
on line
28
Notice
: Trying to access array offset on value of type null in
/home2/freimans/public_html/wp-content/themes/twentysixteen/shortcodes/components/ProjectMap.php
on line
28
Warning
: explode() expects parameter 2 to be string, array given in
/home2/freimans/public_html/wp-content/themes/twentysixteen/shortcodes/components/ProjectMap.php
on line
28
Notice
: Trying to access array offset on value of type null in
/home2/freimans/public_html/wp-content/themes/twentysixteen/shortcodes/components/ProjectMap.php
on line
28
Warning
: explode() expects parameter 2 to be string, array given in
/home2/freimans/public_html/wp-content/themes/twentysixteen/shortcodes/components/ProjectMap.php
on line
28
Notice
: Trying to access array offset on value of type null in
/home2/freimans/public_html/wp-content/themes/twentysixteen/shortcodes/components/ProjectMap.php
on line
28
Warning
: explode() expects parameter 2 to be string, array given in
/home2/freimans/public_html/wp-content/themes/twentysixteen/shortcodes/components/ProjectMap.php
on line
28
Notice
: Trying to access array offset on value of type null in
/home2/freimans/public_html/wp-content/themes/twentysixteen/shortcodes/components/ProjectMap.php
on line
28
Warning
: explode() expects parameter 2 to be string, array given in
/home2/freimans/public_html/wp-content/themes/twentysixteen/shortcodes/components/ProjectMap.php
on line
28
Notice
: Trying to access array offset on value of type null in
/home2/freimans/public_html/wp-content/themes/twentysixteen/shortcodes/components/ProjectMap.php
on line
28
Warning
: explode() expects parameter 2 to be string, array given in
/home2/freimans/public_html/wp-content/themes/twentysixteen/shortcodes/components/ProjectMap.php
on line
28
Notice
: Trying to access array offset on value of type null in
/home2/freimans/public_html/wp-content/themes/twentysixteen/shortcodes/components/ProjectMap.php
on line
28
Warning
: explode() expects parameter 2 to be string, array given in
/home2/freimans/public_html/wp-content/themes/twentysixteen/shortcodes/components/ProjectMap.php
on line
28
Notice
: Trying to access array offset on value of type null in
/home2/freimans/public_html/wp-content/themes/twentysixteen/shortcodes/components/ProjectMap.php
on line
28
Warning
: explode() expects parameter 2 to be string, array given in
/home2/freimans/public_html/wp-content/themes/twentysixteen/shortcodes/components/ProjectMap.php
on line
28
Notice
: Trying to access array offset on value of type null in
/home2/freimans/public_html/wp-content/themes/twentysixteen/shortcodes/components/ProjectMap.php
on line
28
Warning
: explode() expects parameter 2 to be string, array given in
/home2/freimans/public_html/wp-content/themes/twentysixteen/shortcodes/components/ProjectMap.php
on line
28
Notice
: Trying to access array offset on value of type null in
/home2/freimans/public_html/wp-content/themes/twentysixteen/shortcodes/components/ProjectMap.php
on line
28
Warning
: explode() expects parameter 2 to be string, array given in
/home2/freimans/public_html/wp-content/themes/twentysixteen/shortcodes/components/ProjectMap.php
on line
28
Notice
: Trying to access array offset on value of type null in
/home2/freimans/public_html/wp-content/themes/twentysixteen/shortcodes/components/ProjectMap.php
on line
28
Warning
: explode() expects parameter 2 to be string, array given in
/home2/freimans/public_html/wp-content/themes/twentysixteen/shortcodes/components/ProjectMap.php
on line
28
Notice
: Trying to access array offset on value of type null in
/home2/freimans/public_html/wp-content/themes/twentysixteen/shortcodes/components/ProjectMap.php
on line
28
Warning
: explode() expects parameter 2 to be string, array given in
/home2/freimans/public_html/wp-content/themes/twentysixteen/shortcodes/components/ProjectMap.php
on line
28
Notice
: Trying to access array offset on value of type null in
/home2/freimans/public_html/wp-content/themes/twentysixteen/shortcodes/components/ProjectMap.php
on line
28
Warning
: explode() expects parameter 2 to be string, array given in
/home2/freimans/public_html/wp-content/themes/twentysixteen/shortcodes/components/ProjectMap.php
on line
28
Notice
: Trying to access array offset on value of type null in
/home2/freimans/public_html/wp-content/themes/twentysixteen/shortcodes/components/ProjectMap.php
on line
28
Warning
: explode() expects parameter 2 to be string, array given in
/home2/freimans/public_html/wp-content/themes/twentysixteen/shortcodes/components/ProjectMap.php
on line
28
Notice
: Trying to access array offset on value of type null in
/home2/freimans/public_html/wp-content/themes/twentysixteen/shortcodes/components/ProjectMap.php
on line
28
Warning
: explode() expects parameter 2 to be string, array given in
/home2/freimans/public_html/wp-content/themes/twentysixteen/shortcodes/components/ProjectMap.php
on line
28
Notice
: Trying to access array offset on value of type null in
/home2/freimans/public_html/wp-content/themes/twentysixteen/shortcodes/components/ProjectMap.php
on line
28
Warning
: explode() expects parameter 2 to be string, array given in
/home2/freimans/public_html/wp-content/themes/twentysixteen/shortcodes/components/ProjectMap.php
on line
28
Notice
: Trying to access array offset on value of type null in
/home2/freimans/public_html/wp-content/themes/twentysixteen/shortcodes/components/ProjectMap.php
on line
28
Warning
: explode() expects parameter 2 to be string, array given in
/home2/freimans/public_html/wp-content/themes/twentysixteen/shortcodes/components/ProjectMap.php
on line
28
Notice
: Trying to access array offset on value of type null in
/home2/freimans/public_html/wp-content/themes/twentysixteen/shortcodes/components/ProjectMap.php
on line
28
Warning
: explode() expects parameter 2 to be string, array given in
/home2/freimans/public_html/wp-content/themes/twentysixteen/shortcodes/components/ProjectMap.php
on line
28
Notice
: Trying to access array offset on value of type null in
/home2/freimans/public_html/wp-content/themes/twentysixteen/shortcodes/components/ProjectMap.php
on line
28
Warning
: explode() expects parameter 2 to be string, array given in
/home2/freimans/public_html/wp-content/themes/twentysixteen/shortcodes/components/ProjectMap.php
on line
28
Notice
: Trying to access array offset on value of type null in
/home2/freimans/public_html/wp-content/themes/twentysixteen/shortcodes/components/ProjectMap.php
on line
28
Warning
: explode() expects parameter 2 to be string, array given in
/home2/freimans/public_html/wp-content/themes/twentysixteen/shortcodes/components/ProjectMap.php
on line
28
Notice
: Trying to access array offset on value of type null in
/home2/freimans/public_html/wp-content/themes/twentysixteen/shortcodes/components/ProjectMap.php
on line
28
Warning
: explode() expects parameter 2 to be string, array given in
/home2/freimans/public_html/wp-content/themes/twentysixteen/shortcodes/components/ProjectMap.php
on line
28
Notice
: Trying to access array offset on value of type null in
/home2/freimans/public_html/wp-content/themes/twentysixteen/shortcodes/components/ProjectMap.php
on line
28
Warning
: explode() expects parameter 2 to be string, array given in
/home2/freimans/public_html/wp-content/themes/twentysixteen/shortcodes/components/ProjectMap.php
on line
28
Notice
: Trying to access array offset on value of type null in
/home2/freimans/public_html/wp-content/themes/twentysixteen/shortcodes/components/ProjectMap.php
on line
28
Warning
: explode() expects parameter 2 to be string, array given in
/home2/freimans/public_html/wp-content/themes/twentysixteen/shortcodes/components/ProjectMap.php
on line
28
Notice
: Trying to access array offset on value of type null in
/home2/freimans/public_html/wp-content/themes/twentysixteen/shortcodes/components/ProjectMap.php
on line
28
Warning
: explode() expects parameter 2 to be string, array given in
/home2/freimans/public_html/wp-content/themes/twentysixteen/shortcodes/components/ProjectMap.php
on line
28
Notice
: Trying to access array offset on value of type null in
/home2/freimans/public_html/wp-content/themes/twentysixteen/shortcodes/components/ProjectMap.php
on line
28
Warning
: explode() expects parameter 2 to be string, array given in
/home2/freimans/public_html/wp-content/themes/twentysixteen/shortcodes/components/ProjectMap.php
on line
28
Notice
: Trying to access array offset on value of type null in
/home2/freimans/public_html/wp-content/themes/twentysixteen/shortcodes/components/ProjectMap.php
on line
28
Warning
: explode() expects parameter 2 to be string, array given in
/home2/freimans/public_html/wp-content/themes/twentysixteen/shortcodes/components/ProjectMap.php
on line
28
Notice
: Trying to access array offset on value of type null in
/home2/freimans/public_html/wp-content/themes/twentysixteen/shortcodes/components/ProjectMap.php
on line
28
Warning
: explode() expects parameter 2 to be string, array given in
/home2/freimans/public_html/wp-content/themes/twentysixteen/shortcodes/components/ProjectMap.php
on line
28
Notice
: Trying to access array offset on value of type null in
/home2/freimans/public_html/wp-content/themes/twentysixteen/shortcodes/components/ProjectMap.php
on line
28
Warning
: explode() expects parameter 2 to be string, array given in
/home2/freimans/public_html/wp-content/themes/twentysixteen/shortcodes/components/ProjectMap.php
on line
28
Notice
: Trying to access array offset on value of type null in
/home2/freimans/public_html/wp-content/themes/twentysixteen/shortcodes/components/ProjectMap.php
on line
28
Warning
: explode() expects parameter 2 to be string, array given in
/home2/freimans/public_html/wp-content/themes/twentysixteen/shortcodes/components/ProjectMap.php
on line
28
Notice
: Trying to access array offset on value of type null in
/home2/freimans/public_html/wp-content/themes/twentysixteen/shortcodes/components/ProjectMap.php
on line
28
Warning
: explode() expects parameter 2 to be string, array given in
/home2/freimans/public_html/wp-content/themes/twentysixteen/shortcodes/components/ProjectMap.php
on line
28
Notice
: Trying to access array offset on value of type null in
/home2/freimans/public_html/wp-content/themes/twentysixteen/shortcodes/components/ProjectMap.php
on line
28
Warning
: explode() expects parameter 2 to be string, array given in
/home2/freimans/public_html/wp-content/themes/twentysixteen/shortcodes/components/ProjectMap.php
on line
28
Notice
: Trying to access array offset on value of type null in
/home2/freimans/public_html/wp-content/themes/twentysixteen/shortcodes/components/ProjectMap.php
on line
28
Warning
: explode() expects parameter 2 to be string, array given in
/home2/freimans/public_html/wp-content/themes/twentysixteen/shortcodes/components/ProjectMap.php
on line
28
Notice
: Trying to access array offset on value of type null in
/home2/freimans/public_html/wp-content/themes/twentysixteen/shortcodes/components/ProjectMap.php
on line
28
Warning
: explode() expects parameter 2 to be string, array given in
/home2/freimans/public_html/wp-content/themes/twentysixteen/shortcodes/components/ProjectMap.php
on line
28
Notice
: Trying to access array offset on value of type null in
/home2/freimans/public_html/wp-content/themes/twentysixteen/shortcodes/components/ProjectMap.php
on line
28
Warning
: explode() expects parameter 2 to be string, array given in
/home2/freimans/public_html/wp-content/themes/twentysixteen/shortcodes/components/ProjectMap.php
on line
28
Notice
: Trying to access array offset on value of type null in
/home2/freimans/public_html/wp-content/themes/twentysixteen/shortcodes/components/ProjectMap.php
on line
28
Warning
: explode() expects parameter 2 to be string, array given in
/home2/freimans/public_html/wp-content/themes/twentysixteen/shortcodes/components/ProjectMap.php
on line
28
Notice
: Trying to access array offset on value of type null in
/home2/freimans/public_html/wp-content/themes/twentysixteen/shortcodes/components/ProjectMap.php
on line
28
Warning
: explode() expects parameter 2 to be string, array given in
/home2/freimans/public_html/wp-content/themes/twentysixteen/shortcodes/components/ProjectMap.php
on line
28
Notice
: Trying to access array offset on value of type null in
/home2/freimans/public_html/wp-content/themes/twentysixteen/shortcodes/components/ProjectMap.php
on line
28
Warning
: explode() expects parameter 2 to be string, array given in
/home2/freimans/public_html/wp-content/themes/twentysixteen/shortcodes/components/ProjectMap.php
on line
28
Notice
: Trying to access array offset on value of type null in
/home2/freimans/public_html/wp-content/themes/twentysixteen/shortcodes/components/ProjectMap.php
on line
28
Warning
: explode() expects parameter 2 to be string, array given in
/home2/freimans/public_html/wp-content/themes/twentysixteen/shortcodes/components/ProjectMap.php
on line
28
Notice
: Trying to access array offset on value of type null in
/home2/freimans/public_html/wp-content/themes/twentysixteen/shortcodes/components/ProjectMap.php
on line
28
Warning
: explode() expects parameter 2 to be string, array given in
/home2/freimans/public_html/wp-content/themes/twentysixteen/shortcodes/components/ProjectMap.php
on line
28
Notice
: Trying to access array offset on value of type null in
/home2/freimans/public_html/wp-content/themes/twentysixteen/shortcodes/components/ProjectMap.php
on line
28
Warning
: explode() expects parameter 2 to be string, array given in
/home2/freimans/public_html/wp-content/themes/twentysixteen/shortcodes/components/ProjectMap.php
on line
28
Notice
: Trying to access array offset on value of type null in
/home2/freimans/public_html/wp-content/themes/twentysixteen/shortcodes/components/ProjectMap.php
on line
28
Warning
: explode() expects parameter 2 to be string, array given in
/home2/freimans/public_html/wp-content/themes/twentysixteen/shortcodes/components/ProjectMap.php
on line
28
Notice
: Trying to access array offset on value of type null in
/home2/freimans/public_html/wp-content/themes/twentysixteen/shortcodes/components/ProjectMap.php
on line
28
Warning
: explode() expects parameter 2 to be string, array given in
/home2/freimans/public_html/wp-content/themes/twentysixteen/shortcodes/components/ProjectMap.php
on line
28
Notice
: Trying to access array offset on value of type null in
/home2/freimans/public_html/wp-content/themes/twentysixteen/shortcodes/components/ProjectMap.php
on line
28
Warning
: explode() expects parameter 2 to be string, array given in
/home2/freimans/public_html/wp-content/themes/twentysixteen/shortcodes/components/ProjectMap.php
on line
28
Notice
: Trying to access array offset on value of type null in
/home2/freimans/public_html/wp-content/themes/twentysixteen/shortcodes/components/ProjectMap.php
on line
28
Warning
: explode() expects parameter 2 to be string, array given in
/home2/freimans/public_html/wp-content/themes/twentysixteen/shortcodes/components/ProjectMap.php
on line
28
Notice
: Trying to access array offset on value of type null in
/home2/freimans/public_html/wp-content/themes/twentysixteen/shortcodes/components/ProjectMap.php
on line
28
Warning
: explode() expects parameter 2 to be string, array given in
/home2/freimans/public_html/wp-content/themes/twentysixteen/shortcodes/components/ProjectMap.php
on line
28
Notice
: Trying to access array offset on value of type null in
/home2/freimans/public_html/wp-content/themes/twentysixteen/shortcodes/components/ProjectMap.php
on line
28
Warning
: explode() expects parameter 2 to be string, array given in
/home2/freimans/public_html/wp-content/themes/twentysixteen/shortcodes/components/ProjectMap.php
on line
28
Notice
: Trying to access array offset on value of type null in
/home2/freimans/public_html/wp-content/themes/twentysixteen/shortcodes/components/ProjectMap.php
on line
28
Warning
: explode() expects parameter 2 to be string, array given in
/home2/freimans/public_html/wp-content/themes/twentysixteen/shortcodes/components/ProjectMap.php
on line
28
Notice
: Trying to access array offset on value of type null in
/home2/freimans/public_html/wp-content/themes/twentysixteen/shortcodes/components/ProjectMap.php
on line
28
Warning
: explode() expects parameter 2 to be string, array given in
/home2/freimans/public_html/wp-content/themes/twentysixteen/shortcodes/components/ProjectMap.php
on line
28
Notice
: Trying to access array offset on value of type null in
/home2/freimans/public_html/wp-content/themes/twentysixteen/shortcodes/components/ProjectMap.php
on line
28
Warning
: explode() expects parameter 2 to be string, array given in
/home2/freimans/public_html/wp-content/themes/twentysixteen/shortcodes/components/ProjectMap.php
on line
28
Notice
: Trying to access array offset on value of type null in
/home2/freimans/public_html/wp-content/themes/twentysixteen/shortcodes/components/ProjectMap.php
on line
28
Warning
: explode() expects parameter 2 to be string, array given in
/home2/freimans/public_html/wp-content/themes/twentysixteen/shortcodes/components/ProjectMap.php
on line
28
Notice
: Trying to access array offset on value of type null in
/home2/freimans/public_html/wp-content/themes/twentysixteen/shortcodes/components/ProjectMap.php
on line
28
Warning
: explode() expects parameter 2 to be string, array given in
/home2/freimans/public_html/wp-content/themes/twentysixteen/shortcodes/components/ProjectMap.php
on line
28
Notice
: Trying to access array offset on value of type null in
/home2/freimans/public_html/wp-content/themes/twentysixteen/shortcodes/components/ProjectMap.php
on line
28
Warning
: explode() expects parameter 2 to be string, array given in
/home2/freimans/public_html/wp-content/themes/twentysixteen/shortcodes/components/ProjectMap.php
on line
28
Notice
: Trying to access array offset on value of type null in
/home2/freimans/public_html/wp-content/themes/twentysixteen/shortcodes/components/ProjectMap.php
on line
28
Warning
: explode() expects parameter 2 to be string, array given in
/home2/freimans/public_html/wp-content/themes/twentysixteen/shortcodes/components/ProjectMap.php
on line
28
Notice
: Trying to access array offset on value of type null in
/home2/freimans/public_html/wp-content/themes/twentysixteen/shortcodes/components/ProjectMap.php
on line
28
Warning
: explode() expects parameter 2 to be string, array given in
/home2/freimans/public_html/wp-content/themes/twentysixteen/shortcodes/components/ProjectMap.php
on line
28
Notice
: Trying to access array offset on value of type null in
/home2/freimans/public_html/wp-content/themes/twentysixteen/shortcodes/components/ProjectMap.php
on line
28
Warning
: explode() expects parameter 2 to be string, array given in
/home2/freimans/public_html/wp-content/themes/twentysixteen/shortcodes/components/ProjectMap.php
on line
28
Notice
: Trying to access array offset on value of type null in
/home2/freimans/public_html/wp-content/themes/twentysixteen/shortcodes/components/ProjectMap.php
on line
28
Warning
: explode() expects parameter 2 to be string, array given in
/home2/freimans/public_html/wp-content/themes/twentysixteen/shortcodes/components/ProjectMap.php
on line
28
Notice
: Trying to access array offset on value of type null in
/home2/freimans/public_html/wp-content/themes/twentysixteen/shortcodes/components/ProjectMap.php
on line
28
Warning
: explode() expects parameter 2 to be string, array given in
/home2/freimans/public_html/wp-content/themes/twentysixteen/shortcodes/components/ProjectMap.php
on line
28
Notice
: Trying to access array offset on value of type null in
/home2/freimans/public_html/wp-content/themes/twentysixteen/shortcodes/components/ProjectMap.php
on line
28
Warning
: explode() expects parameter 2 to be string, array given in
/home2/freimans/public_html/wp-content/themes/twentysixteen/shortcodes/components/ProjectMap.php
on line
28
Notice
: Trying to access array offset on value of type null in
/home2/freimans/public_html/wp-content/themes/twentysixteen/shortcodes/components/ProjectMap.php
on line
28
Warning
: explode() expects parameter 2 to be string, array given in
/home2/freimans/public_html/wp-content/themes/twentysixteen/shortcodes/components/ProjectMap.php
on line
28
Notice
: Trying to access array offset on value of type null in
/home2/freimans/public_html/wp-content/themes/twentysixteen/shortcodes/components/ProjectMap.php
on line
28
Warning
: explode() expects parameter 2 to be string, array given in
/home2/freimans/public_html/wp-content/themes/twentysixteen/shortcodes/components/ProjectMap.php
on line
28
Notice
: Trying to access array offset on value of type null in
/home2/freimans/public_html/wp-content/themes/twentysixteen/shortcodes/components/ProjectMap.php
on line
28
Project costs
Execution date
Used bus type
[:]