Floor structure from timber and other materials. Which to choose?
There are different types of floor structures – timber floor trusses, Ibeam floor joists, timber floor joists, reinforced concrete panels and other solutions. But which one should you use?
What is timber floor trusses?
Timber trusses used for floors is a structure that uses timber beams connected with metal plates. You can use timber trusses without load-bearing walls with up to 9m in length. Trusses are manufactured from spruce C24 timber. Those are manufactured using computerized saws and presses, which ensures very precise and fast production.
Advantages:
Lower total cost.

Short assembly time.

Easy to install wiring, pipes, air ducts and other communication systems

Easily customizable for each individual project

Durable and ecological building material
The main advantage of using timber trusses for floor structure is that truss systems do not require additional structural support, which generally reduces construction costs.
The other key factor is the high quality and precision of the trusses, which are manufactured in a factory and custom-made for each project, thus minimizing the risk of error. Wood floor trussing provides easy installation and maintenance of plumbing, drainage, ducting and wiring since no holes for communication are required, which is why plumbing, heating, ventilation and electrical contractors love to work with timber floor trusses.
Timber floor trusses compared to timber joists and Ibeam joists
Timber joists have been by far the most common, traditional and also the cheapest type of floor structure, but one of the biggest downsides is limited span. Therefore, choosing this floor structure requires additional support or load-bearing walls. In addition, setting up the communication system will be a much more complicated process. In addition, it will take more time to install communications and most certainly will cost more.
A similar situation is with the Ibeam structure. It will require additional work to install wiring, pipes, air ducts and other communication systems.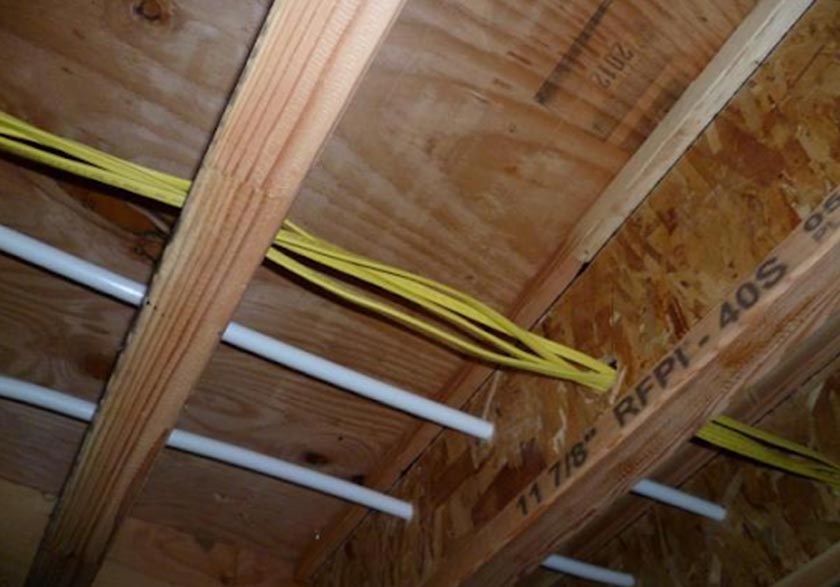 The cost of floor structure from timber trusses is usually a bit more expensive, but the triangular interior structure of truss provides greater durability than the Ibeams, which means the floor overall structure will be more resistant to common problems such as structural offset or creaking flooring.
Beam and reinforced concrete structure for the floor
The cost of this structure is relatively higher than other types, but the installation of joists and reinforced concrete panelling is easy, significantly saving on labour costs.
Standard reinforced concrete beams usually reach up to 6 m, rarely 12 m, without additional support. Manufacturers often also offer customized beams. The joists and reinforced concrete slabs do not deform and the main advantage of this system is the high strength, which is very suitable for high-rise buildings.
It should be taken into account that this system is unsuitable if the floor is smaller than 50m2, because the installation requires special equipment, therefore this solution is most suitable for large projects and new buildings.
Factors to consider when choosing floor structure
Cost and installation.  Most often, the total cost and time spent on a project determine the major role in decision making. Despite the fact that the cost of a timber truss system is a bit more expensive than a timber joists and Ibeam joists, the truss has a significantly higher installation speed, taking into account communication installation and other related work, and thus the overall cost of the project is more cost-effective.
Communication installation. It is important to evaluate in a timely manner how and where all communications (cables, pipes, etc.) will be installed and which type of coverage will be most appropriate for the installation of communications.